During my time as a Senior Copywriter at the edgy pharmaceutical advertising agency Cambridge Biomarketing, I conceptualized, wrote, and executed year-long email campaigns for some of our largest clients. I've included just a few samples, with notes to keep in mind below:
The audiences we were targeting varied from parents of children with a rare disease (ZSD), to older patients with a Urea Cycle Disorder (UCD), to the doctors treating them.
We had disease-focused campaigns with the objective of educating both patients and doctors about the mechanisms of the disease, and the best ways to monitor the condition.
We also had product-focused campaigns that educated doctors and patients about the benefits of a new treatment for their condition.
Our goals were to drive users to the new tools that we launched on our websites, which could then be download and shared with their healthcare team.
---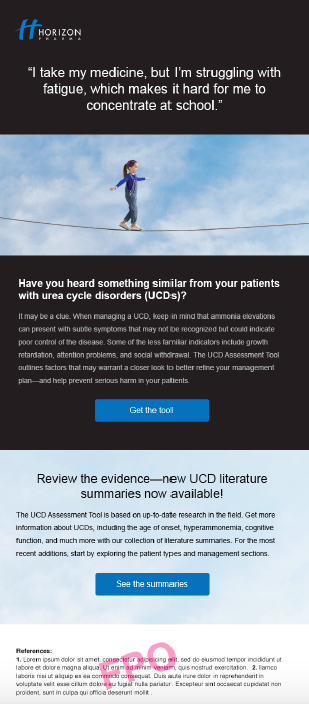 ---