How can we bridge the gap between product, people, and brand?
This is a key question that my team and I worked to solve at GoPro.
I partnered with product designers and managers, engineers, UX researchers, and the marketing team to develop user experiences that were not only clear and easy to navigate, but that could also delight our customers and maintain a strong connection with our brand. The growing competition in the action camera market makes it more important than ever to distinguish the GoPro brand.
On the Product Team, I wrote everything in and about GoPro's software (including mobile and desktop apps), defining product vision and narratives across multiple platforms and touch points, and considering different subgroups of our users.
I also worked on marketing projects including marketing copy decks, product naming, 2020 copy direction, and promo flyers. Central to every project was understanding the customer problem and mindset.
Testimonials
Here's what some folks had to say about working with me:
Working with Katya at GoPro was a fantastic experience. Her ability to take what I wanted to say about our product, and craft it into a message that not only nails the technical elements, but also stays on-brand, is uncanny. Any company looking to hire Katya should know that they will, of course, be getting a great writer. But, they'll also be getting one who is not afraid to push for what she knows is right.

– Chris Frost, Senior Product Manager

One of the things I really appreciate about Katya is that she's always pushing to make things better on all fronts (especially copy and process). A standard bug fix note? Nope. Crashing is for the waves. Hitches in workflow? Not when Katya's involved. Though not a project manager, she takes initiative to corral team members and get the job done on-time. Katya also volunteers to take on more and asks great questions to get the info she needs to craft solid copy. She brings a lot to the team. I'd happily work with her again.

– Nicole McFadden, Copy Manager

Project Samples
Below are just a few samples of my work, with more available if interested! (Best viewed on desktop.)
In-App Promos: GoPro camera owners (HERO8 + MAX)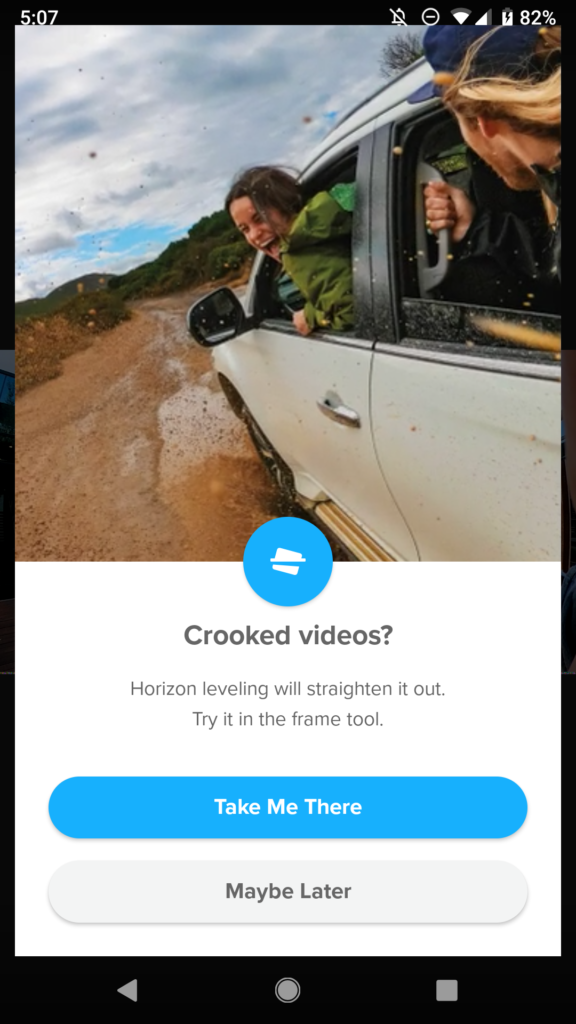 Why: Promote the launch of new editing tool "horizon leveling"
What: In-app interstitial
Who: This promo was specifically shown to GoPro HERO8 and MAX camera owners as the horizon leveling tool is not available for earlier models, nor for non-GoPro footage (users can use much of the GoPro app to edit phone footage, but certain tools are exclusive to camera owners). It's possible some users would be new to the app, but most who see this ad would be returning users.
How: The team needed a pithy way to
1) Give the news to our users
2) Orient them to what this tool is/how it works
We used a catchy interstitial ad. The animation to visually demonstrated what horizon leveling does (corrects the horizon line in your footage)—so users could instantly understand the tool.
The copy complemented the animation by educating users about 1) the name of the tool, and 2) where it lives in the app.
Details: We took a more creative approach with the copy as this is a promotion, not a functional dialog. The goal is to get the user to understand just enough to want to try it out for themselves. And the animation greatly clarifies what the tool does to their footage, so cognitive load is minimal.
The CTA takes users to the horizon leveling tool so they can try and learn it, with little interruption.
We chose to show the promo right as users open playback in the app because:
– This tool lives in playback mode, so it's relevant to inform users of something new once they enter this mode
– Users should know about what's new in this mode before they begin any task here so they wouldn't be interrupted.
---

First Time User (FTU) Onboarding: "Reframe" Editing Mode 
The Challenge: This was a massive undertaking by the Product Team during my time at GoPro. We had just launched a highly complex editing mode in sync with the launch of our 360 camera, MAX. So we needed to make sure users instantly understood how to use this technology and take advantage of all their 360 camera has to offer.
The result? This is now the gold standard for onboarding at GoPro.
The Details: The team introduced cutting-edge technology and in a brand new interface. Without proper onboarding few users would understand the new mode, which allows them to make advanced edits to their 360 footage. So what's the best way to onboard? How much info is too much? What's the bare minimum we need to show and explain to equip users to take advantage of this kickass technology? 
Working with UX designers, researchers, and Product Management, we were able to conclusively test copy, design, and functionality to iterate effectively. This FTU walkthrough is now considered a best example of user onboarding at GoPro, and the team uses it as a model for future onboarding/educational initiatives.
Testing greatly drove our iterations on copy. I'm happy to discuss details!
Check out the full Reframe FTU here.
---

In-App Promos: Returning users; mix of GoPro camera owners + non-owners
---

In-App Promos: Existing users; mix of owners + non-owners
---

In-App Promos: Migrating Quik users to GoPro; Non-GoPro owners
---

App Store Product Stories + Release Notes
"Crashing is for the waves, not your apps."
"Get into trouble, not troubleshooting."
Those are a couple of my favorite blurbs I've written for the app store. Before my time the app updates would simply state "Bug fixes + performance enhancements," but wouldn't it be more powerful to talk about these improvements in a way that delights, is memorable, and on-brand?
Below are just some snapshots of the many feature updates I wrote for the app stores. Updates occurred every 2 weeks, so I worked with cross-functional team members to develop a process and schedule to bust these puppies out, get them localized, and get them submitted to the Apple store on time.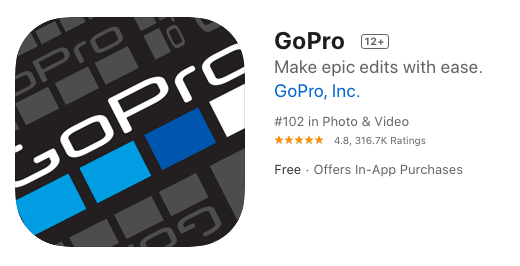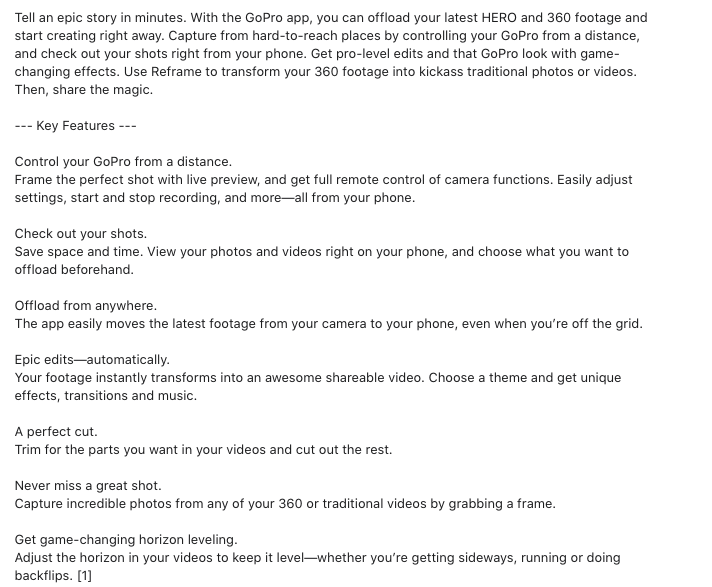 ---
---
PLUS Subscription Churn Reduction
The team designed a new FTU experience for new PLUS subscribers that:
1) Builds enthusiasm about their new subscription
2) Reminds them of all the benefits they get to make sure they take advantage
3) Keeps users feeling that they get great value each month with their subscription—and that keeping their subscription is a no brainer
---