How do you empower parents whose infants are born with a death sentence?
You show how they can shape their child's care, and you connect them to the information that helps them get started.
The Client
Pharmaceutical company Retrophin, Cholbam account
The Campaign
Consumer/caregiver disease for Zellweger spectrum disorders (ZSDs)
The Need
In ZSDs, parents are raising children who may not live beyond a year or two, and their precious time together is clouded by marathons of symptoms and the sense of helplessness. Thanks to the recent FDA approval of Cholbam, there's one more thing parents can do for their children— they can finally treat liver injury, a problem that's nearly universal in this rare disease but can be overlooked by doctors and caregivers. With so many organs affected all over the body and debilitating symptoms dominating attention (i.e. vision loss, neurocognitive), how do we bring the silent threat of liver injury top of mind?
The Solution
We need to come from all angles. Along with an HCP campaign, we launched an educational disease campaign to activate parents as advocates for consistent monitoring of their child's liver. Through market research we found a common desire: to give their child the best life possible, and to create as many happy memories as they can in the time they have. Protecting their child's liver is one more way parents can help their child and improve their prognosis. I honed in on these insights as I worked with designers on the concepts shown below.
The Challenge
Shift the ZSD management paradigm– start by activating parents to ask doctors about monitoring their child's liver.
Balance hopeful messaging about what a life with ZSD can be with the reality that this rare disease has turned one of life's most precious moments–becoming a parent–into a devastating tragedy.
Convey an empowering yet sensitive tone without over-promising.
Set the stage for treatment with Cholbam without talking about it directly.
Note: concepts are in sketch and unpublished.
THE CONCEPT: Firsts
Rationale: Parents of children with a ZSD have come to terms with the fact they are raising a child who is living in deadly decline. Their focus is to do all they can to give their child the best life possible. And some of life's greatest moments are our firsts — the first laugh, the first word, the first step. Indeed, these parents will face many firsts — both challenging ones and heartwarming ones. Monitoring the liver is one of the first important steps parents can take to manage their child's condition, and to help increase the chances of having more of the kind of firsts they would look forward to and look back on fondly.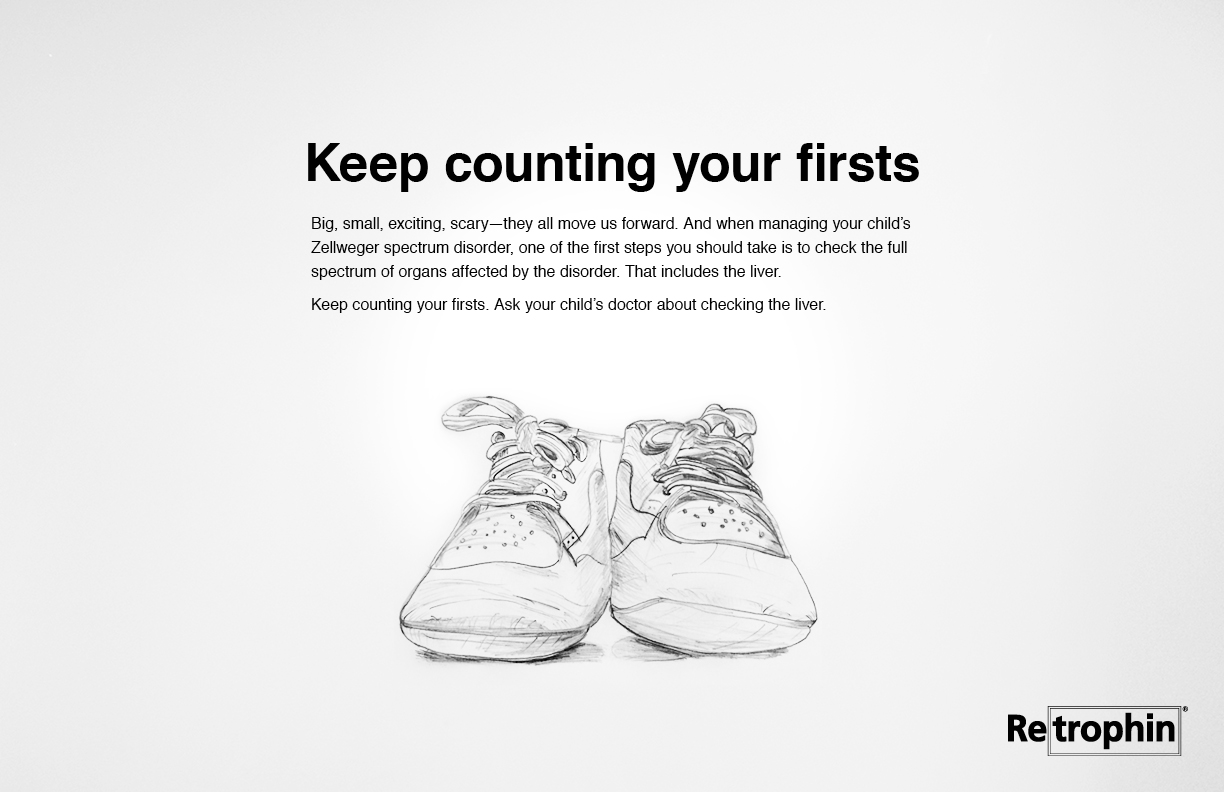 THE CONCEPT: Problems
Rationale: In ZSDs, parents have a long list of problems to worry about: neruocognitive, vision, hearing, kidneys— the list goes on. The liver is one more problem they might not know about because it is not visible, but it could be one less unknown with consistent monitoring. Managing as many of their child's symptoms as possible can help parents worry less about issues they may be missing and focus more on those precious, intimate moments with their child. Don't leave the liver as a question mark; ask your doctor about checking the liver.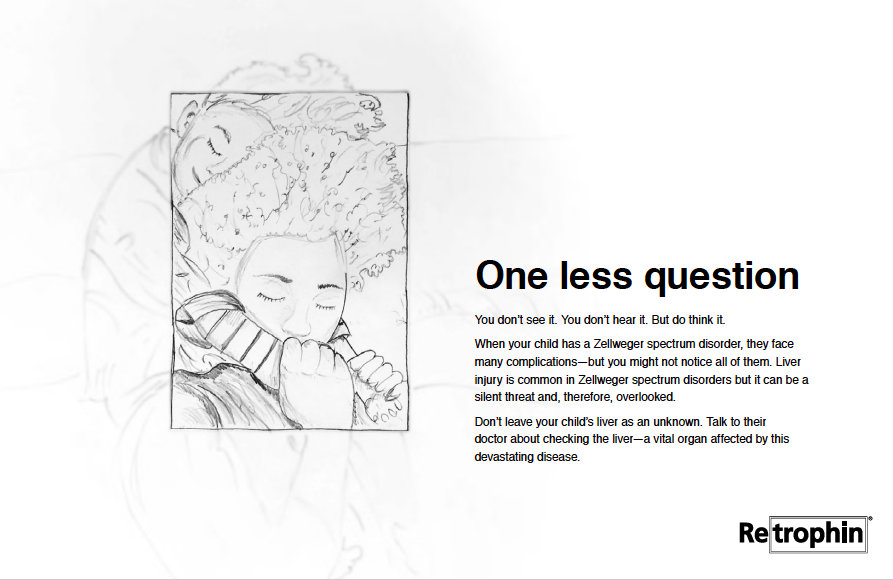 THE CONCEPT: Unconditional
Rationale: When your child has a ZSD, keeping up with the disease isn't good enough; you must be one step ahead of it. The disease never stops, so you never stop, and the fight never stops. You are unconditionally committed to doing all you can for your child, no matter what. Monitoring the liver is another important way you can stay on top of—and ahead of—your child's disease.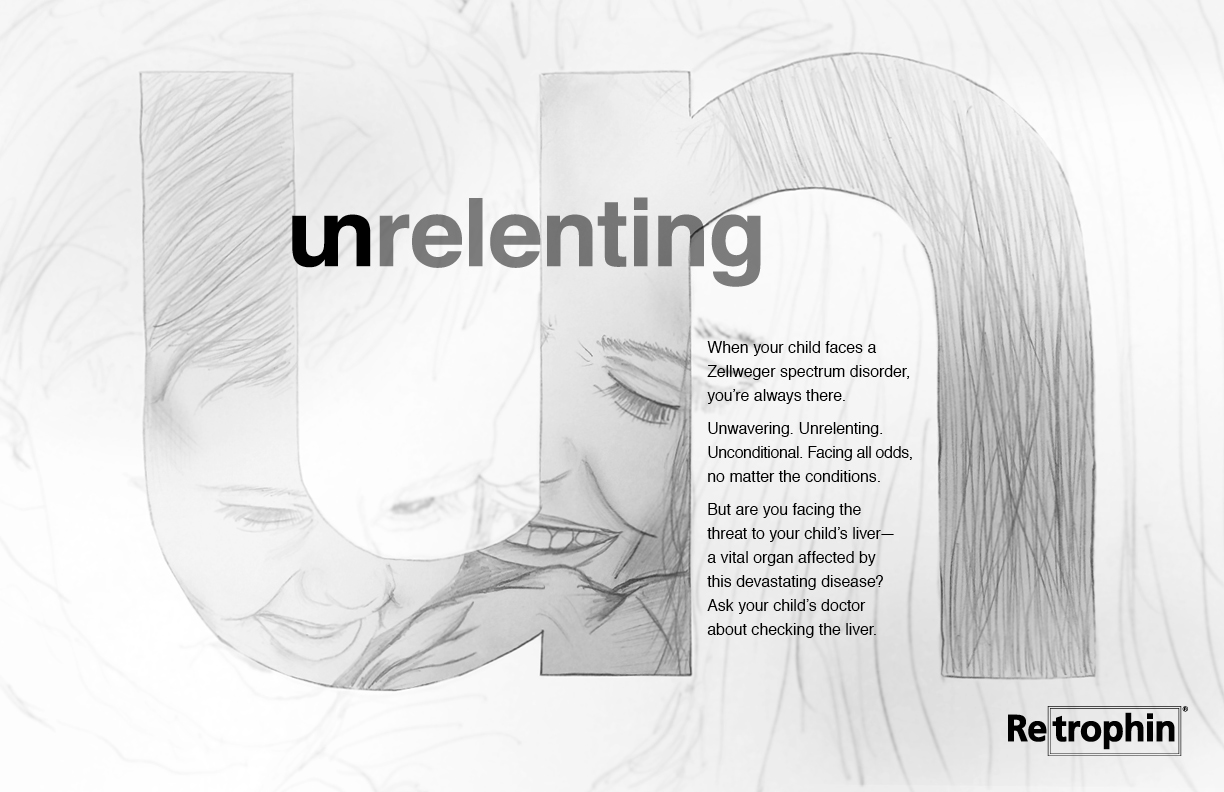 THE CONCEPT: Spectrum
Rationale: Zellweger spectrum disorders have a wide spectrum of symptoms; some can be louder than others, but it doesn't mean the quieter ones can be ignored without potentially severe consequences. Liver injury is nearly universal in Zellweger spectrum disorders, but it is a less noticeable threat that may be paled out by the many more visible complications, and therefore overlooked.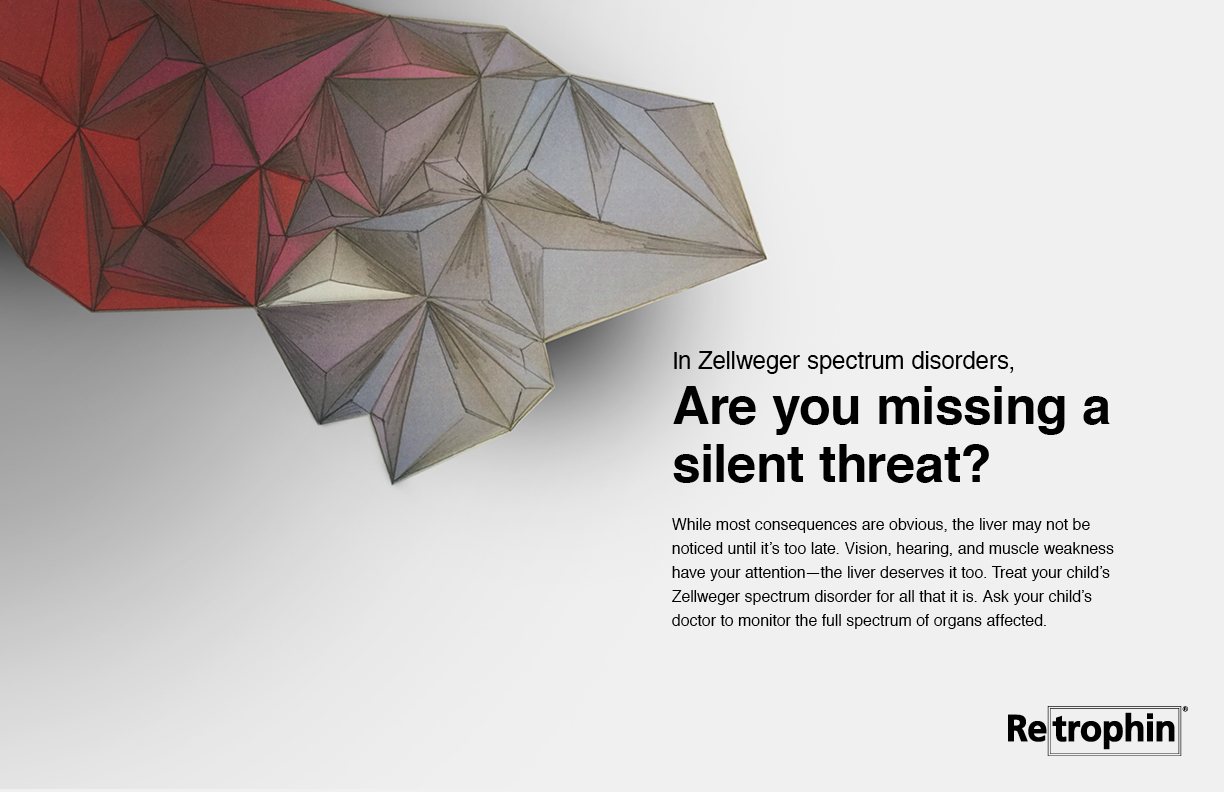 THE CONCEPT: Days
Rationale: Parents of children with ZSDs just want to do all they can to give their child the best life possible and have more wonderful memories to create, preserve, and look back on. The best way to do that is to manage all the organs affected by ZSDs, and that includes the liver.